FIRSTCALL Medical Advice Infoline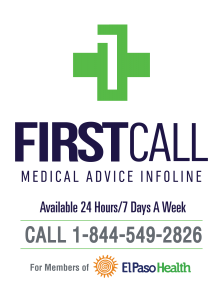 What is the FIRSTCALL Medical Advice Infoline?

FIRSTCALL Medical Advice Infoline is for El Paso Health Members, provided at no-cost. When you call FIRSTCALL, you will receive immediate information to take care of your medical or health concerns.
Who can call?

STAR, CHIP, and CHIP Perinatal Members of El Paso Health or their care-givers.
When can I call?

You can call anytime. The FIRSTCALL Medical Advice Infoline is available 24 hours a day, 7 days a week.
Who will answer my call?

Your call will be answered by a nurse or pharmacist. The information is available in English or Spanish. Interpreter and TTY services are available.
How does it work?

When you call FIRSTCALL Medical Advice Infoline, you will speak to a healthcare professional who will ask you basic questions, such as, "Why are you calling? What is your medical condition? What medications are you taking?" Depending on your answers, the healthcare professional will be able to assist you and provide you with the appropriate advice.
How can FIRSTCALL Medical Advice Infoline help me?

A nurse or pharmacist will answer specific questions about your medical condition. The healthcare professional will help you decide what kind of care is needed. They may recommend that you do one or more of the following:
Stay at home
Go see your doctor the next day
Go to an after-hours/night clinic
Go to an emergency room
Call 911
Who can I call if I need more information?

Call El Paso Health at 915-532-3778 or toll-free at 1-877-532-3778 for more information.